SUSTAINABILITY SERVICES
We're leveraging our product handling expertise to offer manufacturers one-stop solutions to the environmental, operational, and safety challenges created by scrap resin generation.
SUSTAINABILITY SERVICES
We're leveraging our product handling expertise to offer manufacturers one-stop solutions to the environmental, operational, and safety challenges created by scrap resin generation.
Solutions That Make An Impact
Plastics waste and plastic pollution are growing concerns for producers and consumers. At PSC, we're doing our part to help manufacturers reduce and eliminate pellet, flake, and powder loss and get the most value out of their scrap materials.
As a partner of the Plastics Industry Association's Operation Clean Sweep® (OCS) program, PSC conducts site audits and prepares custom-tailored sustainability plans that are making a positive impact for our customers and the environment.
Our Value Proposition
To utilize our operational excellence knowledge and experience to develop and deliver reliable, high quality solutions and responsive services to help our customers achieve their sustainability goals:

Meet and exceed Operation Clean Sweep® compliance

Reduce pellet loss and protect the environment
Enhance plant cleanliness and safety
Support a circular economy enabling post-industrial recycling and extending pellet life cycle
Improve scrap quality for increased revenue from recycling/resale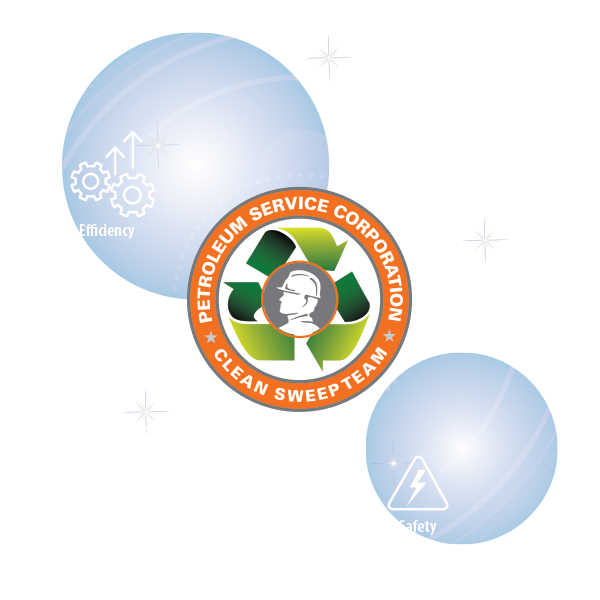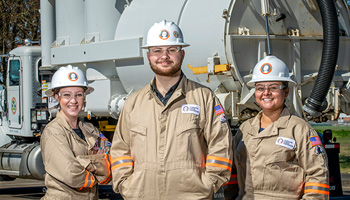 Our Expertise
With decades of experience working in plastics plants across the U.S., PSC is well-positioned to help manufacturers create and execute more comprehensive Operation Clean Sweep® plans:
Our Sustainability Services leadership team has extensive knowledge and expertise in recycling, good environmental practices, and stewardship.
At plants where PSC currently operates, Sustainability Services can be delivered effectively and efficiently, with fewer people than a multi-company approach.
PSC utilizes best practices developed from working with top tier manufacturers and industry-leading training and qualification programs.
PSC's expansive footprint of operations and facilities provides opportunities for our customers to boost efficiency and lower costs.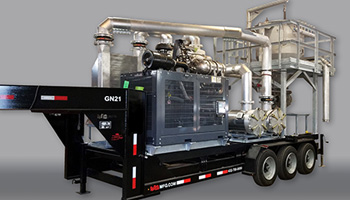 Our Sustainability Assets
PSC has invested in fit-for-purpose equipment and facilities featuring the latest safety and productivity enhancements:
High-dump vacuum trucks eliminating the need for dangerous ramps
Mobile Packaging Units (MPU) with unique capabilities such as product drying, angel hair removal, ferrous material removal, product blending, product transfer, remote packaging and sampling
Roll-off dumpsters custom fitted and strategically placed
Pneumatic bulk trucks, van, and grain trailers
Company owned and operated Roll-off trucks/truck tractors for product movement
An optimized network of satellite warehouses located within 50 miles of most resin producers to provide for responsive and reliable service and 24-hour dispatching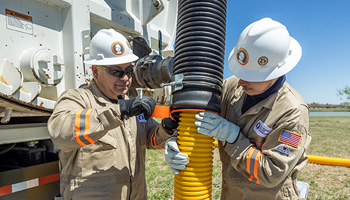 Our Capabilities
PSC's Sustainability business model features these core services:
Plant assessments/audits
OCS Sustainability Plan development and implementation
Procedure writing and checklist development
Routine "pellet patrol" inspections
Employee training and sustainability awareness campaigns
On-site scrap resin collection services via dedicated and on-call crews
Scrap buying/selling to generate revenue for customers
Packaging, warehousing, and upgrading of scrap through additional processing to maximize sales value
Comprehensive data-based monthly reports
Environmental impact summaries
Stakeholder presentation materials
"PSC has been involved in most of the major plastics expansions over the past decade, supporting these operations with product handling, warehousing, and site logistics services. This puts us in a great position to help our customers create and execute more comprehensive Operation Clean Sweep action plans."

Chris Lendo, PSC Vice President of Sustainability
Interested in learning more about how the PSC Clean Sweep Team can help you get more value from your scrap and improve environmental compliance?